If you are looking to use software to automate your lease accounting, you have lots of choices and options. Some software companies offer a "free trial" or a "free version" of the product, but it ends up being a stripped-down version that lacks the full features of the product or has limited functionality that does not meet compliance to ASC 842 and IFRS 16. You might not have a full-functioning product. Others only offer a limited time trial version with a hard expiration date. And other companies may not even list the pricing, so it makes it hard to know if the software will work within your budget. Let's look at these types of software solutions when you are trying to achieve ASC 842 compliance.
Time Limits
Some free trials are designed just to let you test a product, but usually it's not the full version or for a limited time. Fifteen days, 30 days or even just one week. How well can you fully test a product in such a limited time? In fact, can you dedicate time just to playing around with software? Can you dedicate a day or two to testing? With financial or accounting software, the risks associated with experimenting can be scary. And when your trial has ended, what happens next? Will you be able to export your data, or do you need to start over if you don't purchase the software? That's a lot of questions to answer, but considering your time is valuable, a limited time offer may not be your best choice.
Lease Limits
Some solutions offer a free version with extreme limits. You can use their software but only for two leases and one user. How can you know if the software will handle your leases if you can only enter two? Even small companies may find that they have more than two leases between office spaces, copiers, equipment, or warehouse. With a limit of two free leases, you would need a paid version to accommodate three or four leases.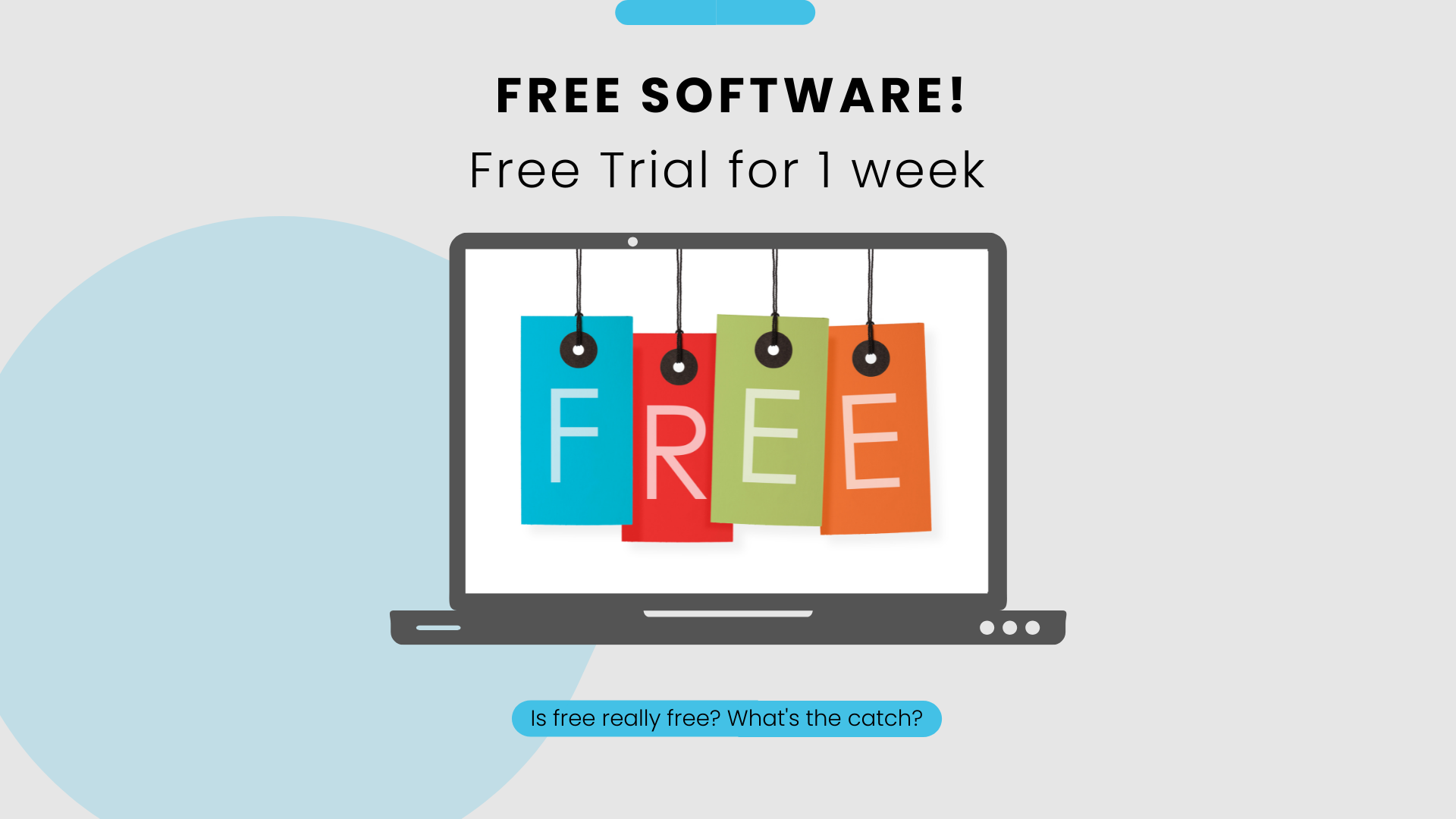 Pricing
Some software companies do not list pricing. Of course, custom pricing can be necessary for enterprise solutions with much to consider from numbers of leases to complexity of accounting. What if the company does not list any pricing on any software? You may assume that they only offer enterprise software, and it could be too expensive for your budget. Listing pricing for some versions and then offering custom quotes for more advanced versions gives you a baseline and lets you know that you can negotiate to accommodate your budget. And knowing the pricing for the standard versions helps you plan what to ask before your sales demonstration.
At Netgain, we have taken a different route. We offer different versions of NetLease o our customers so we can accommodate customers with simple lease accounting and those with complicated lease accounting. Our free version is fully functioning software that provides exactly what you need to get audit-ready compliance for ASC 842, IFRS 16, and GASB 87. If you have just a few simple leases and do not need full automation, NetLease Go Free offers everything you need to get into compliance and intelligently manage your leases in-house within your NetSuite account. And yes, it really is free!
If your leases require modifications or you need more robust reporting, you'll want our next level of software NetLease Go. This paid version automates modifications, decreases in scope and ROU impairments, and offers lease balance roll-forward reporting and waterfall reporting. At the budget-friendly price of $74 a month for 5 leases, with the option to add additional leases at $74 per month per 5 leases, you'll be compliant and still have money for the company Christmas party!
See below for a direct comparison of these two options: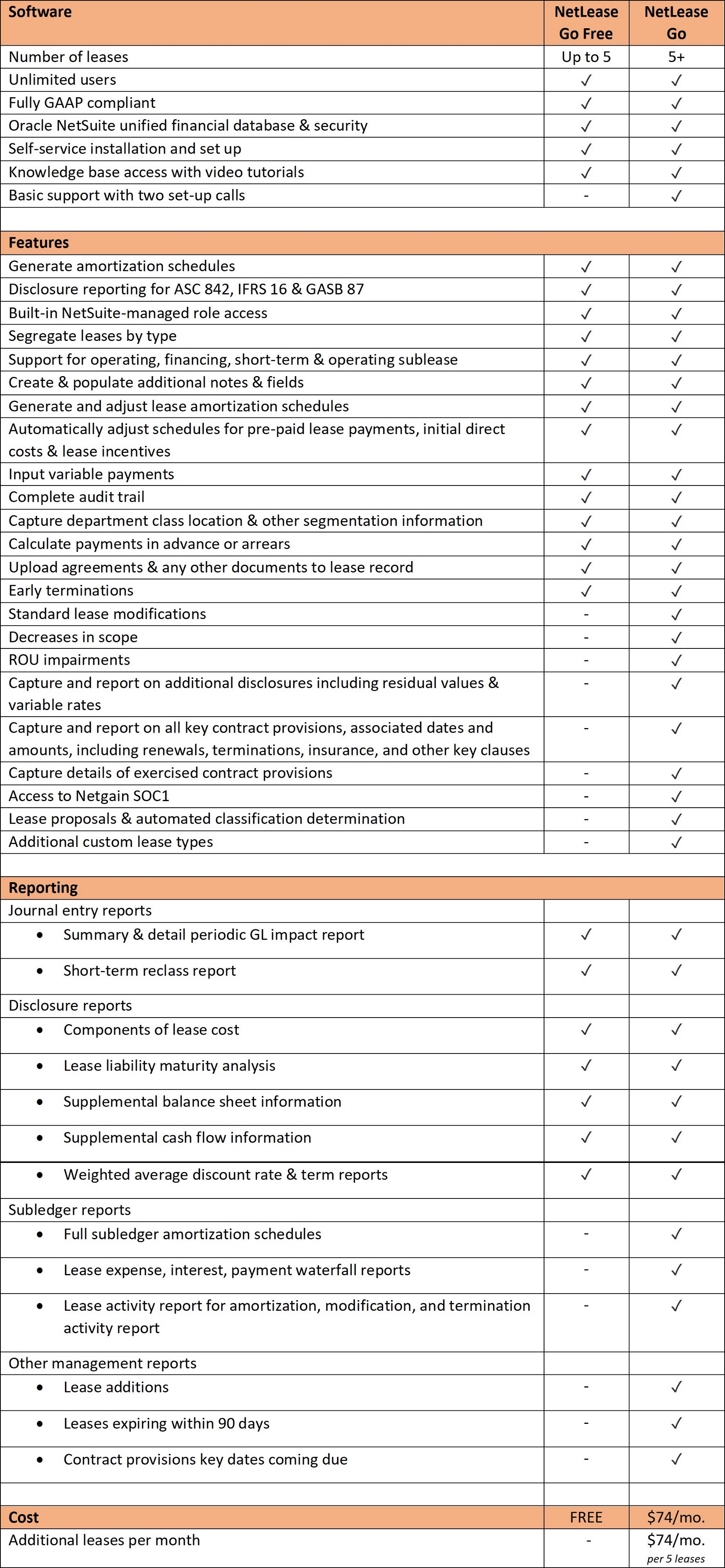 Bottom Line:
As you can see, both versions are robust and will help you manage your leases under the new accounting standard. If you have more complicated leases and will need to account for those complications, then the paid version may be best for you. If you have a limited number of leases, then the free version may be best for you. For full GL integration and advanced capabilities, our solution is called NetLease Max. Talk to one of our sales team representatives about our fully integrated options and use their experience to determine what will be the best solution for you.