As more and more lease accounting software solutions enter the market, your head may be spinning with options. How are the solutions different? Do they not all comply with the new standards?
Before we dive into the types of software on the market, it's critical to list and keep your primary and secondary needs in the back of your mind. Features like compliance with the new accounting standards, ability to handle capital projects, real estate & lease management, asset maintenance tracking, and facilities & space utilization are some common things to look out for.
Here we'll lay out the primary differences in the types of software available so you can better navigate the current lease accounting software landscape.
Lease Accounting vs. Lease Management
Lease accounting solutions are focused on generating the proper journal entries for leases. They are typically built based on guidance from Certified Public Accountants, are primarily focused on compliance with the new accounting standards—ASC 842, IFRS 16, and GASB 87. They also provide financial and disclosure reports to help you comply with the standard. Managing the non-financial aspects of your leases is a secondary consideration.
Conversely, lease management software is first and foremost focused on the real estate, contract management, and lease efficiency side of things. They are generally older software solutions developed by non-accounting, real estate or equipment industry experts. Accounting under the new standards is a secondary concern. Therefore, you should be mindful of lease management solutions if compliance with the new standard is one of your primary requirements.
Here's a summary of the pros and cons of lease accounting versus lease management solutions:
Embedded vs. Standalone
An embedded solution is built straight into your ERP system and therefore requires no extra integration. The benefit of a native offering is the ability to book journal entries directly to the general ledger and maintain all information in one centralized system. This enables you to avoid the dreaded reconciliation between AP and an outside system. Because an embedded solution allows your business to utilize one system to manage everything, there's less maintenance and risk, which means less opportunity for downtime and no threat of broken integrations.
Standalone solutions, on the other hand, are built completely outside of your ERP system and require additional integrations or manual uploads to book entries to the general ledger. On at least a monthly basis, you will need to reconcile your AP transactions with the data provided by the standalone solution. This can not only be time consuming, but it can also produce errors and necessitate re-work during month end close.
Here's an overview of the pros and cons associated with embedded versus standalone solutions: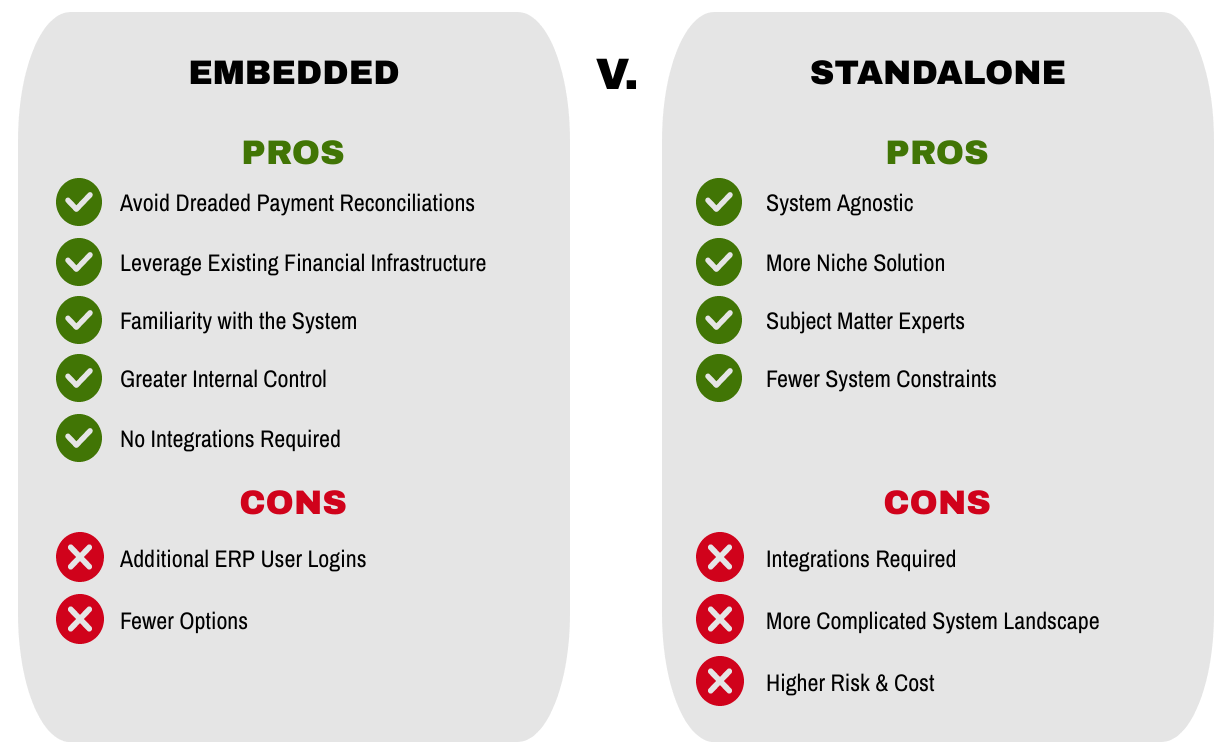 The framework above helps to categorize, and compare and contrast the different solutions that are on the market. If you're already talking to a vendor, find out where they fit within this landscape. Whether internal or embedded, lease accounting, or lease management, we've learned that not all systems are equal. In fact, there are many point solutions that fail to address some of the core requirements under the new standards. Check out this post by RSM that outlines some questions you should ask solution providers to determine how they address common shortfalls.