Fixed asset management is a big deal to companies of all shapes and sizes. Fixed assets impact many aspects of a business, including operations, revenue generation and financial reporting. Thus, knowing the number, type, location and condition of the assets is key to any business.
Managing fixed assets is a major challenge. There are constant changes to fixed assets—acquisitions, disposals, transfers, impairment, etc. Keeping track of all the changes and recording them accurately is time consuming, and let's face it, no one wants to do it. Especially not in Excel.
NetAsset is a solution fully embedded in NetSuite that builds on your existing core financial system so no integrations or reconciliations are necessary. It provides efficiency through automation, transparency through reporting and security through controls and audit trails built into NetSuite.
New features
As an implementation consultant at Netgain, I have helped dozens of clients achieve effective asset management. Now that NetAsset has been a fully featured solution for more than a year, we have had the opportunity to learn from our customers and their needs. I'm excited to announce that we have new time-saving features:
Capitalization Thresholds and Direct Expensing—allows users to set a dollar amount that governs when an asset is capitalized vs. expensed. Any asset below the threshold is automatically expensed. There are two steps to set up direct expensing. First, navigate to NetAsset > NetAsset Setup > Manage Capitalization Thresholds and create thresholds for your asset types. Next, navigate to your asset types and define which account the assets should be expensed to. Once those steps are completed, any asset under the defined thresholds will be expensed rather than capitalized.
Example of an asset that was expensed: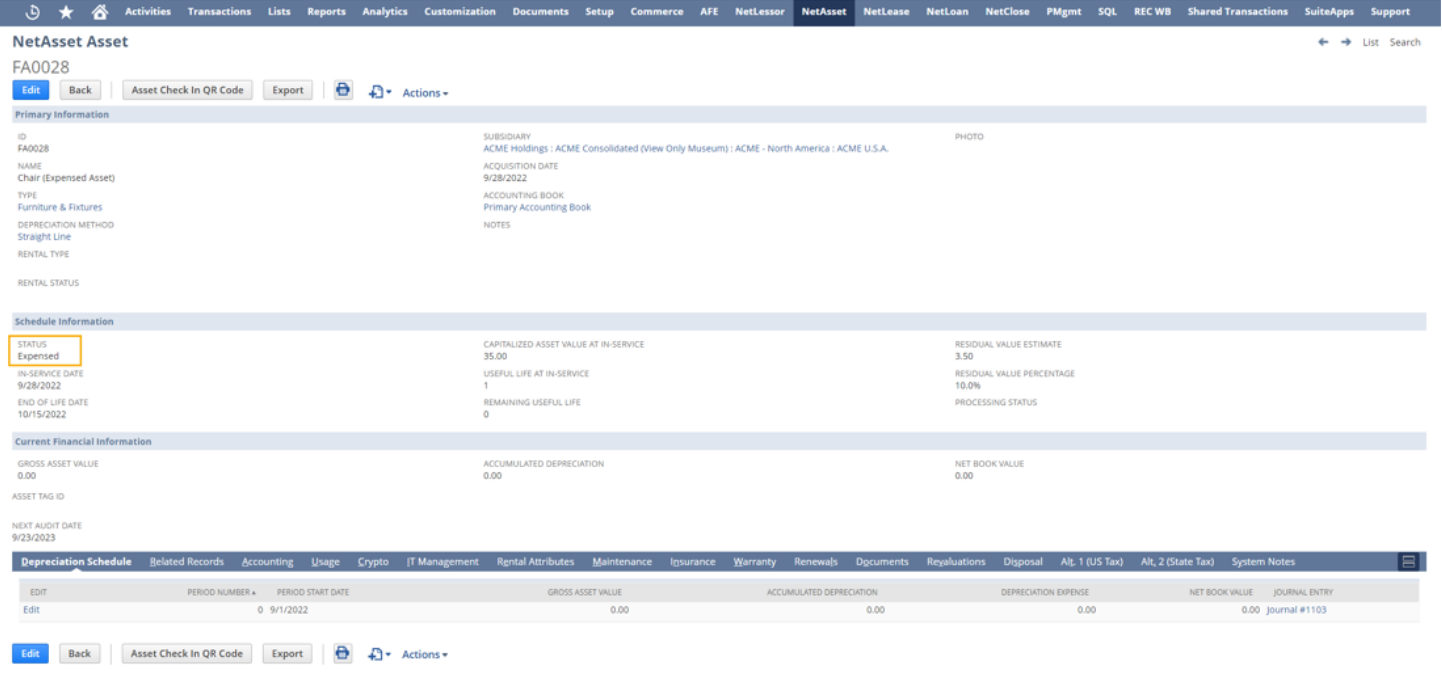 The journal entry looks like this: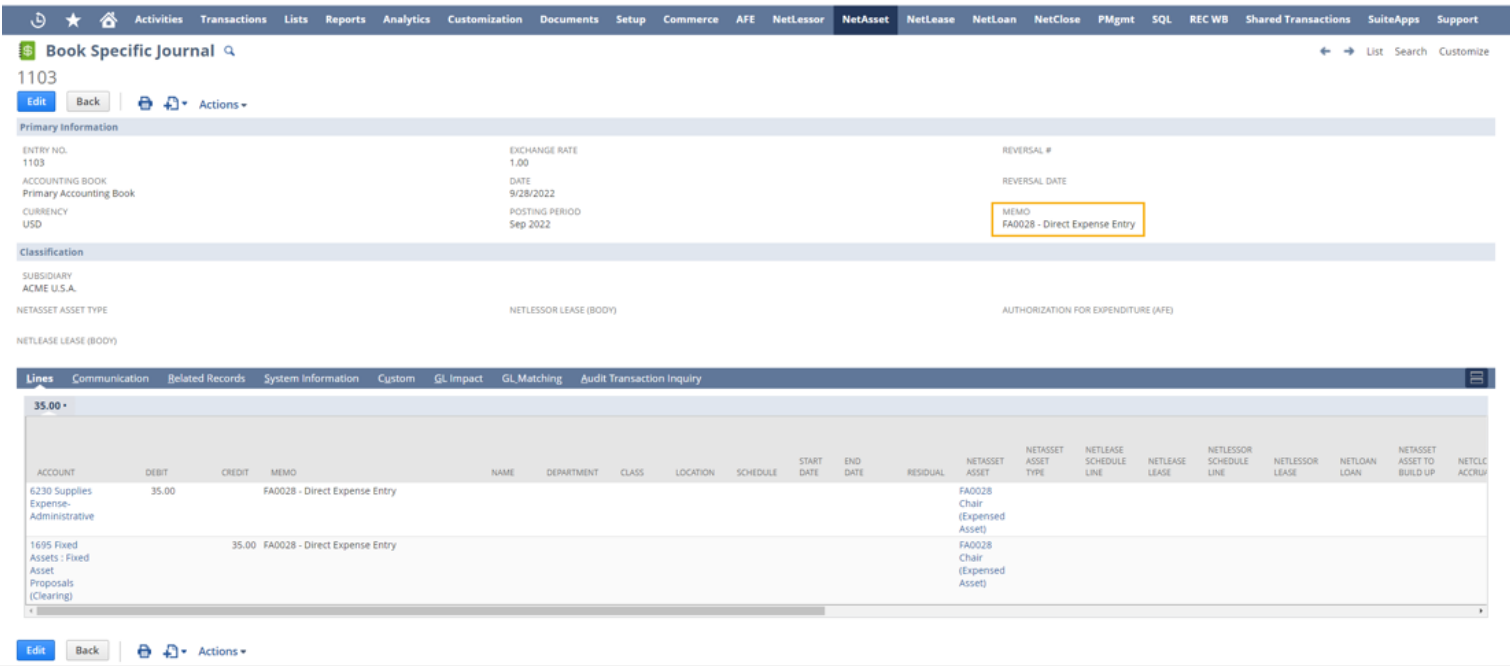 Remove Transactions button added to the Create Assets pages—this feature allows you to remove transactions from the capitalization queue that shouldn't be capitalized. Simply select the transactions you'd like to remove and then click the button to remove.
New asset register that shows beginning and ending balances as well as all activity for the filtered period—this new report can be found under NetAsset > Reports and it is called Asset Register. It's an exciting new addition to our reports section as it combines the data that can be viewed on our regular asset register with the data that can be viewed on our roll-forward report. You can see the transfers in and out, write ups, write downs, build ups, capitalizations from clearing and from CIP, disposals, depreciation expense and beginning and ending balances. It gives a full picture of asset activity in any given period.
Here are a couple examples of the report: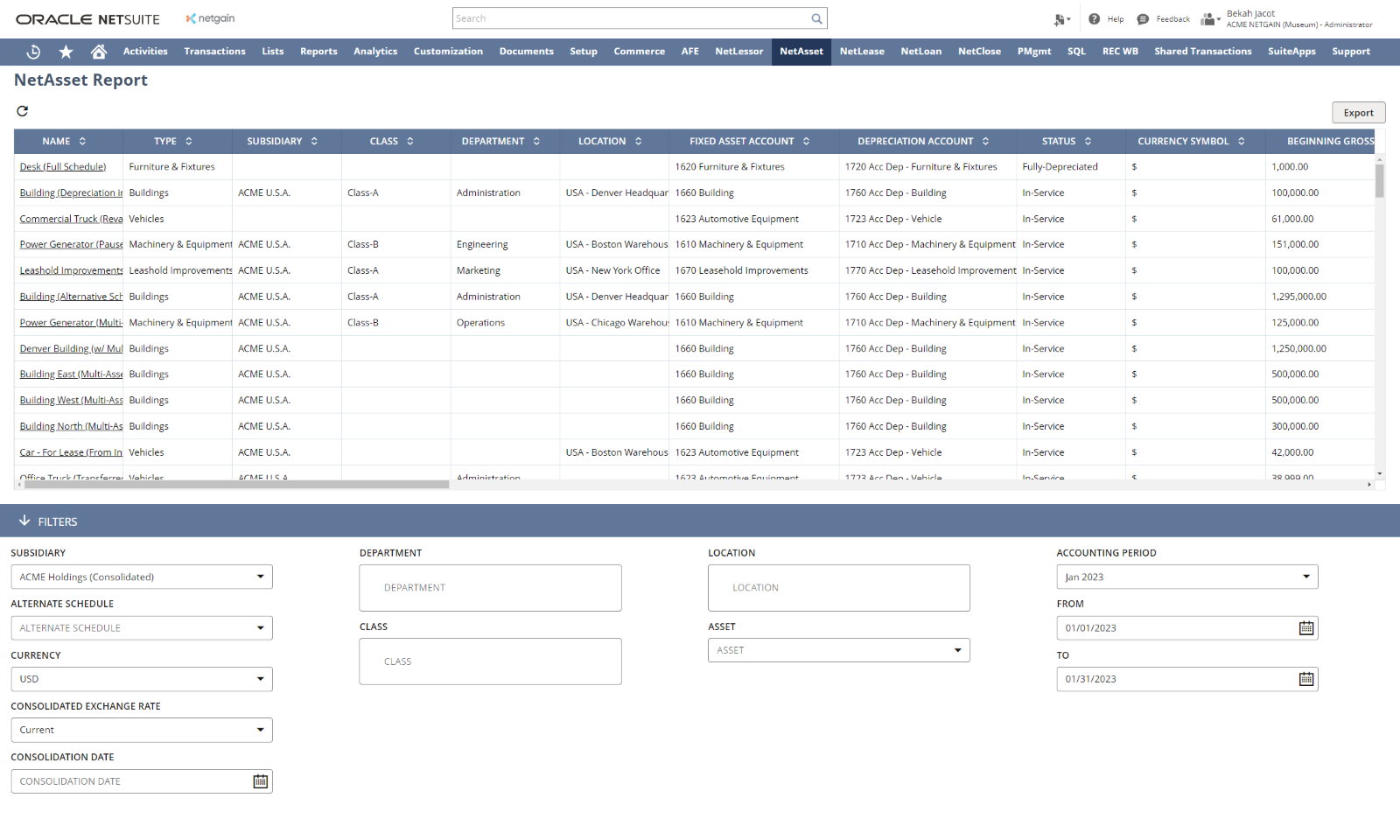 New fields on the asset type allow defaults to be set for alternate schedules—if you have our alternate schedules add-on for managing tax depreciation this new feature is for you! You can now specify the default alternative depreciation method and useful life for each of your alternate schedules. This reduces the manual setup that is necessary when you create a new asset.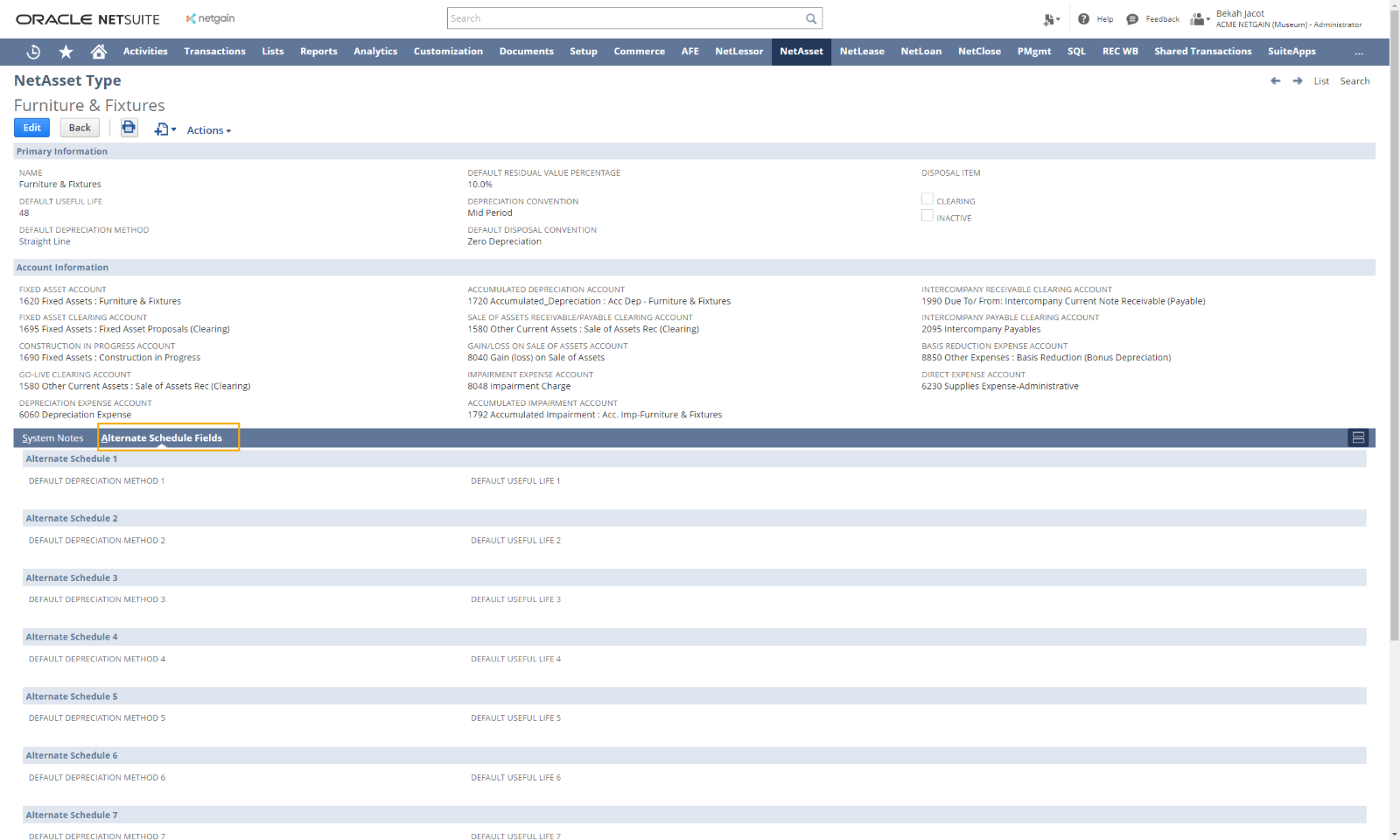 Clearing reconciliation on capitalization—this feature checks to be sure the value under the related records matches the gross asset value when an asset is capitalized. It helps to ensure all the underlying transactions are properly linked to the asset record before the asset is capitalized. To turn this feature on, navigate to NetAsset > NetAsset Setup > System Setup. Check the box that says Perform Clearing Reconciliation on Capitalization by Default. You can also check and uncheck the box as necessary on the monthly journal processing screen.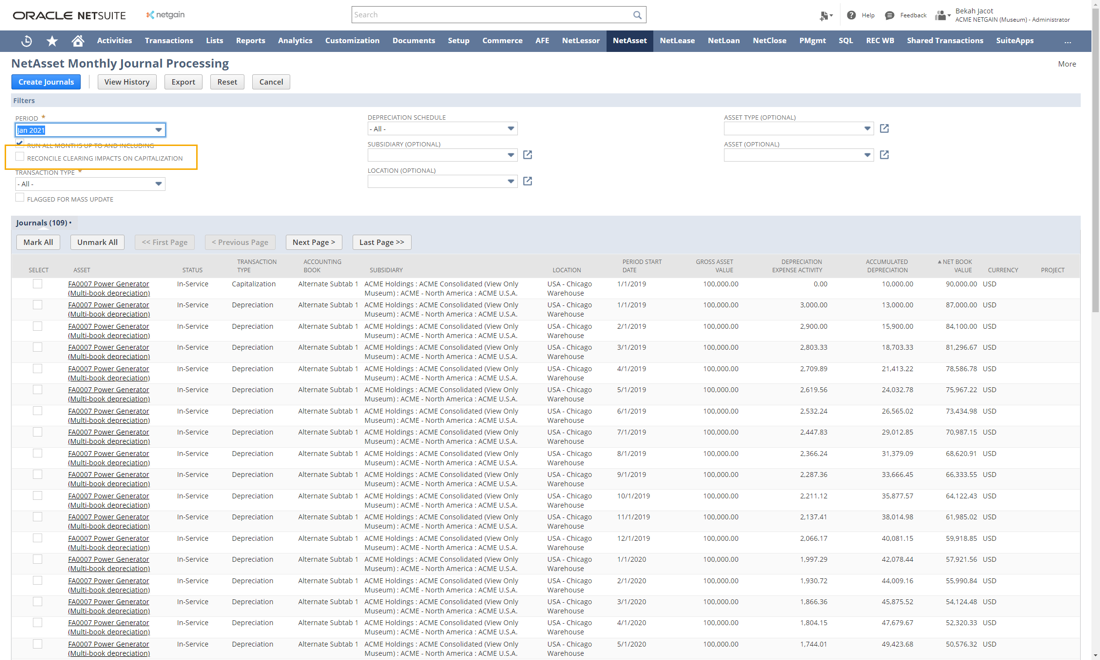 See it for yourself
Schedule a demo to see the new features in action.
Make better asset management decisions with better information
NetAsset builds on NetSuite to offer a full picture of your assets beyond journal entries. For easy reference, you can link the source transaction(s) from the purchase of the asset to the asset record itself. Even better, you can track:
Maintenance schedules and get automated reminders

Insurance policies that cover the asset

The movement of an asset as it is checked in and out to various customers
Any transaction or event that occurs related to the asset can be tracked in NetAsset. The asset can be:
Transferred between segments or subsidiaries with a full record of the movement of the asset

Built-up from CIP

Impaired

Split

Placed on hold

Disposed
Each time one of these events is recorded in NetAsset, the system regenerates the depreciation schedule to account for the changes, ensuring the depreciation expense that impacts your bottom line is complete and accurate.
Finally, NetAsset helps you understand your assets with interactive, reliable and customizable reporting. More than 30 out-of-the-box reports meet a wide spectrum of needs. Some of our clients' favorites are:
Roll forward for a clear picture of activity during the period

Waterfall reports for budgeting and forecasting

Transaction reports that show activity in detail for the period
Automate the accounting
A major reason accountants love using NetAsset is it automates calculations without a giant spreadsheet that must be carefully maintained. NetAsset generates the depreciation schedule and posts the depreciation expense to the general ledger each month with just the click of a button. No more manual calculations or manual journal entries. The journal entries are linked on the depreciation schedules so you can easily see a summary of the general ledger impact of each asset.
Other favorite features
Tax and alternate schedules—

allows you to have up to 10 alternate depreciation schedules to cover the various tax requirements related to fixed assets. NetAsset calculates the tax-depreciation expense and provides reports to show the tax information for each asset.

CIP buildup

—allows you to capitalize transactions as a project from construction in progress. Groups of transactions can be capitalized together as one asset and changes to the construction-in-progress account are shown through reporting.
Bottom line:
As you can see, NetAsset offers everything you need and more. We are expanding the functionality of NetAsset and adding new features as we get feedback from clients. Plus, NetAsset is easy to use and implement. To top it all off, there's minimal configuration required; it's fast and reliable.