Expenses don't like to stay in their assigned boxes when it comes to business operations. To verify your P&L is correct, you often need to split expenses. Overhead charges need to be split out by square feet, except for when you break them out by employee headcount. The cost of a repair person needs to be split between the multiple locations they serviced.
Allocations are a constant part of running a business, so the Shared Transactions app makes applying allocations to your transactions in NetSuite simple.
In the past, allocations have been pieced together through the use of shared vendor bills in NetSuite, but these are no longer supported. This functionality has been recovered and enhanced through the new NetSuite-embedded app, Shared Transactions by Netgain.
Transaction allocations in NetSuite
Shared Transactions adds a one-button approach to allocating your expenses and items directly from native NetSuite bills. Using an intuitive user interface, simply enter the weights and designated segment information.

With this tool, it's easy to split expenses and items between different subsidiaries, departments, locations, classes, and custom segments .
How to perform an allocation
Shared Transactions by Netgain makes allocations easy.
1. Click Allocate on the bill

2. Select the transaction line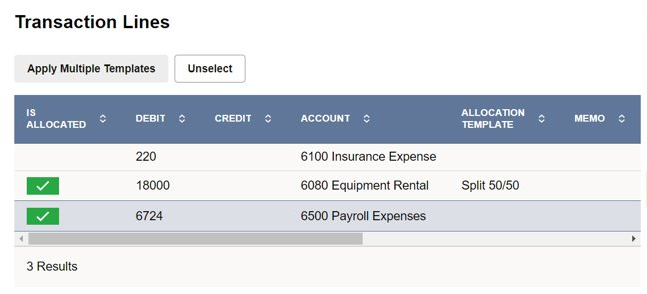 3. Choose weights and allocation selections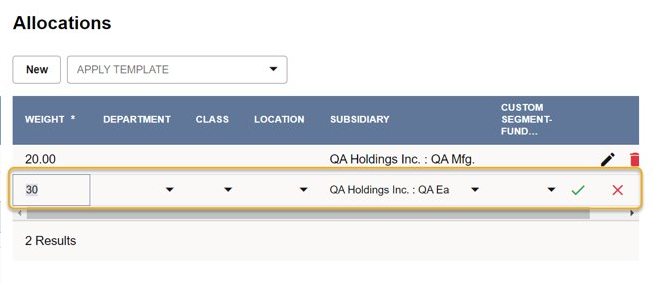 4. Click save
5. See allocations on the bill

Flexible allocation weights
Our system computes a dynamic weighted breakout, so feel free to enter dollar amounts, the number of employees or percentages in the weighted column. We take the entered number and divide it by the total, making the math easy. The system will run the appropriate journal entry to reverse the GL impact of the original transaction line and create a new journal with the allocation. And don't worry about intercompany subsidiary allocations, we have that covered too.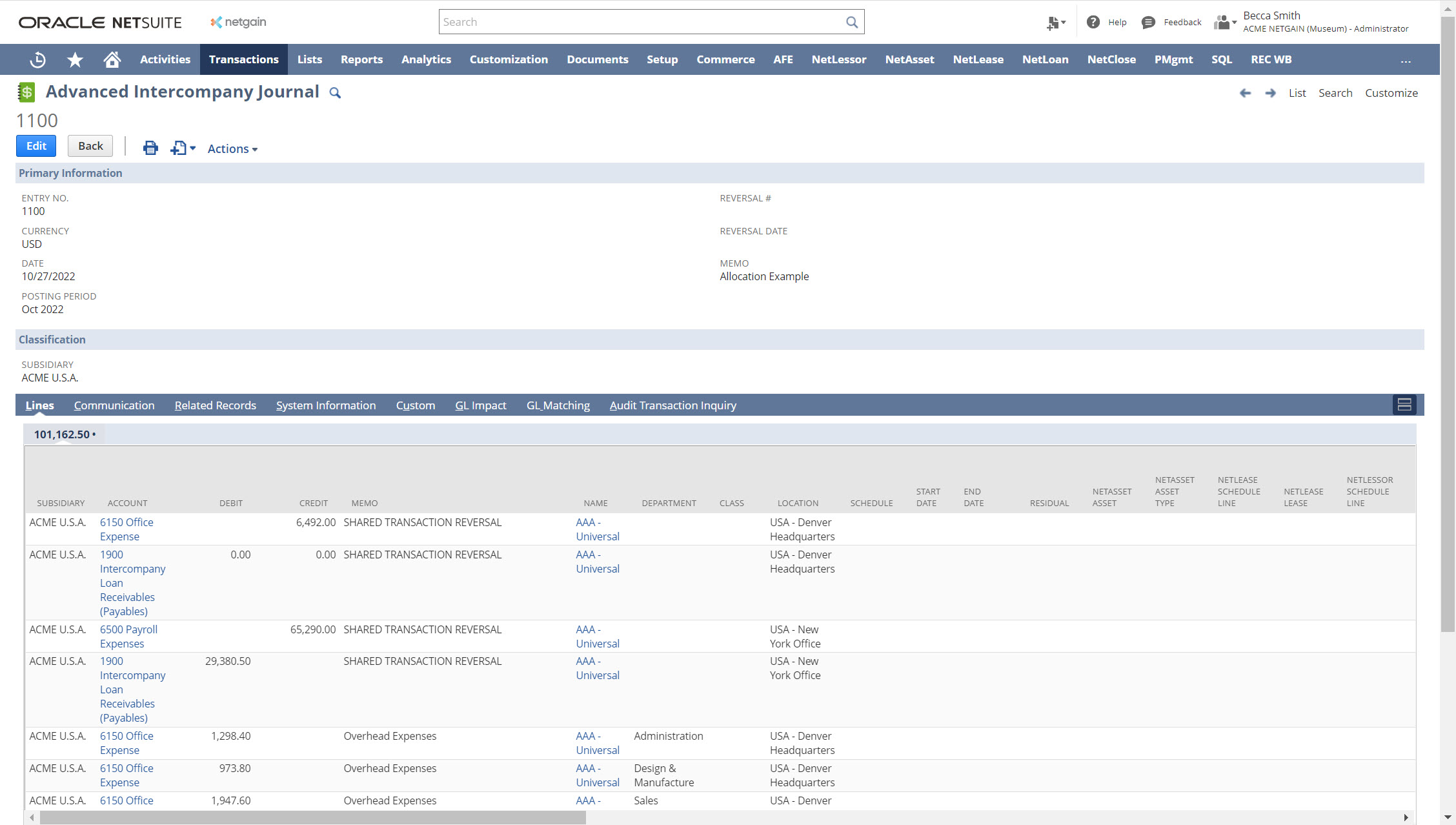 Speed up your workflow with templates
One way Shared Transactions makes allocations as automatic and easy as possible is through templates. Templates allow you to set up a common allocation and then easily apply it to any or all transactions with one selection.
You can create as many templates as desired and continue to edit them. So if you have five employees in sales and three in marketing, you can apply that template to overhead charges and easily change sales to six when you hire someone new.
Templates can then be selected from the allocation page, which will immediately break out the selected transaction line into the designated weights and segments. Quickly override the breakout to customize the allocation from the same page.
You can easily apply a template to an entire bill as well. Imported bills often can have hundreds of lines on them, so we added the ability to select the template from the header and have it applied to every expense.

Reporting and management
Shared Transactions is a fully embedded app, so it posts the new journal entries directly to your GL. The embedded nature of the app means no integrations or imports are needed; your allocations post and flow to all parts of your NetSuite account.
The most important benefit of being embedded is that your NetSuite reports will be accurate and include these new journals. Easily filter between different subsidiaries and segments to see the effect of the allocations.
The journals themselves will show in a sub-tab on the bill, making it easy to find the adjustment and understand its origin. No more fumbling through spreadsheets to understand an allocation at close or when asked by the auditors.
Bottom Line
Simply put, we know allocations are an everyday occurrence, so you need an everyday solution that is easy to use and track. That's what Shared Transactions by Netgain does for your bills and, in the near future, what it will do for additional transactions as well.