Key Takeaways
Efficiently account for leases by using NetLease and QuickBooks together
Accurately post lease accounting entries directly to QuickBooks
Receive expert support from our in-house accountants
We are excited to announce an integration between NetLease and QuickBooks! This add-on will be available to all users at no extra cost. Lease accounting has never been easier than it is with these two products working together. Users can efficiently and accurately enter a lease into NetLease and post those entries to QuickBooks in a few easy steps.
Why NetLease?
Lease accounting is extremely time consuming. NetLease eliminates countless hours of work every month by automating the accounting process. Users can create schedules, disclosures, modifications, terminations, and journal entries with the click of a button. This automation will allow users to focus their time on other important responsibilities and find a better work-life balance. With the QuickBooks integrations, users will be able to further automate the journal entry process. The following types of entries can be posted to QuickBooks in a matter of seconds:
Amortization
Modification
Termination
Long-Term / Short-Term Reclass
Automating lease accounting greatly reduces the opportunity for human error. We know that accuracy in accounting is paramount. Users can depend on our SOC 1 and SOC 2 compliant software (audited by EY). We created this integration with QuickBooks to increase accuracy when posting journal entries from NetLease. We have controls ensuring that all entries are complete for each lease. We also ensure that entries are never double booked. This integration can be relied upon to accurately account for leases.
Our in-house team of expert accountants is here to support our users. Lease accounting can be complex. We know that our users may have unique use cases that require some expert help. Our team of CPAs is available to help users with software and technical questions alike. We expect our users to leverage our expertise in tandem with NetLease.
Steps for setting up the NetLease integration with Quickbooks:
Connect to QuickBooks
Sync Accounts
Fetch Categories (Optional Step)
Run Journals
Step 1: Connect to QuickBooks
a. Click on the Admin > Integrations > Connect to QuickBooks



b. Sign in with QuickBooks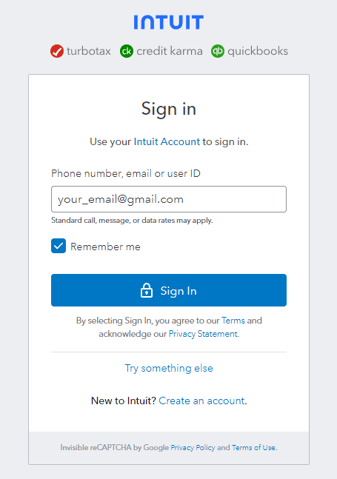 c. Once connected to QuickBooks, you'll see 4 buttons appear under the Integration tab:
Run Journals – (Step 4)
Sync Accounts – (Step 2)
Fetch Categories – (Step 3)

Disconnect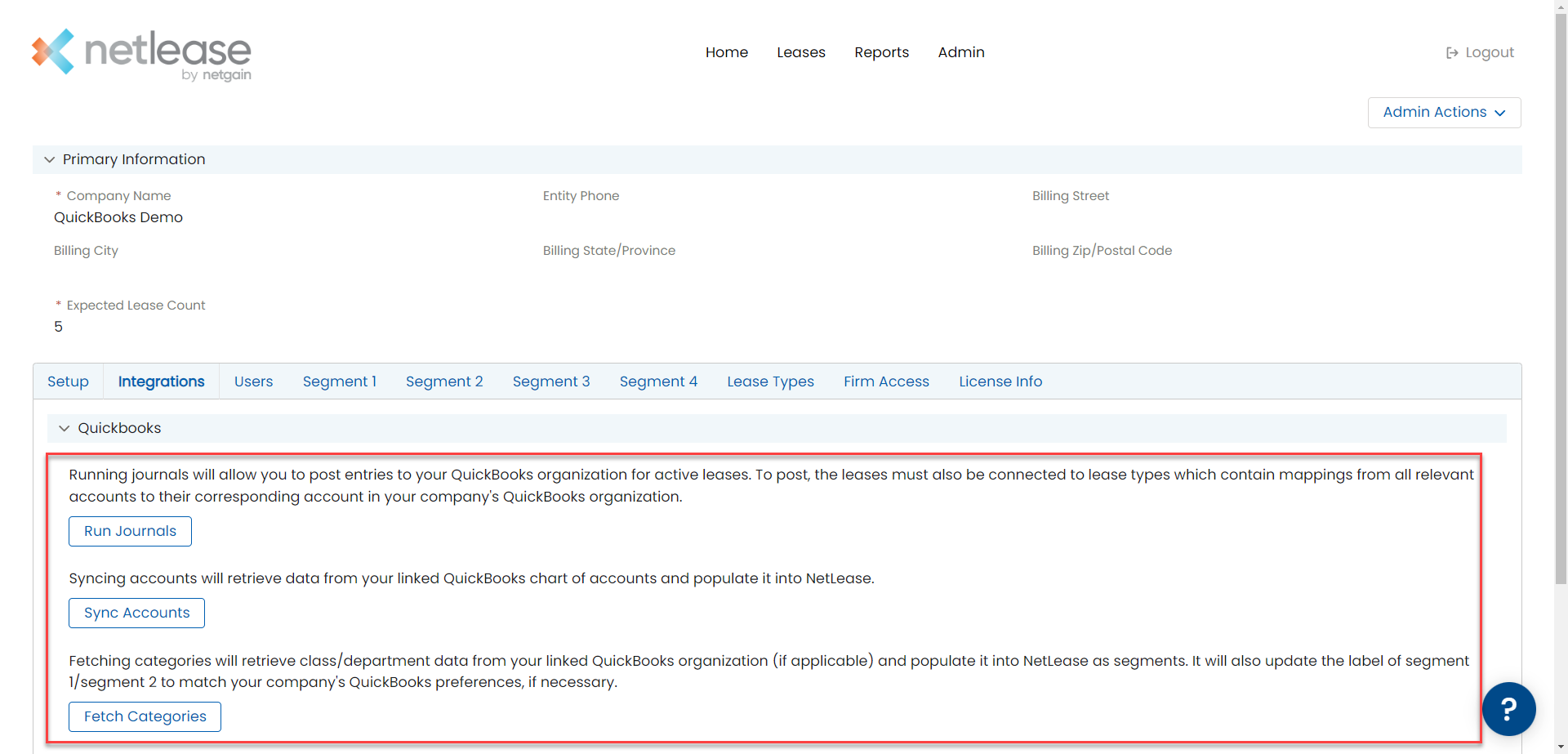 Step 2: Sync Accounts
a. Click Sync Accounts on the Integrations tab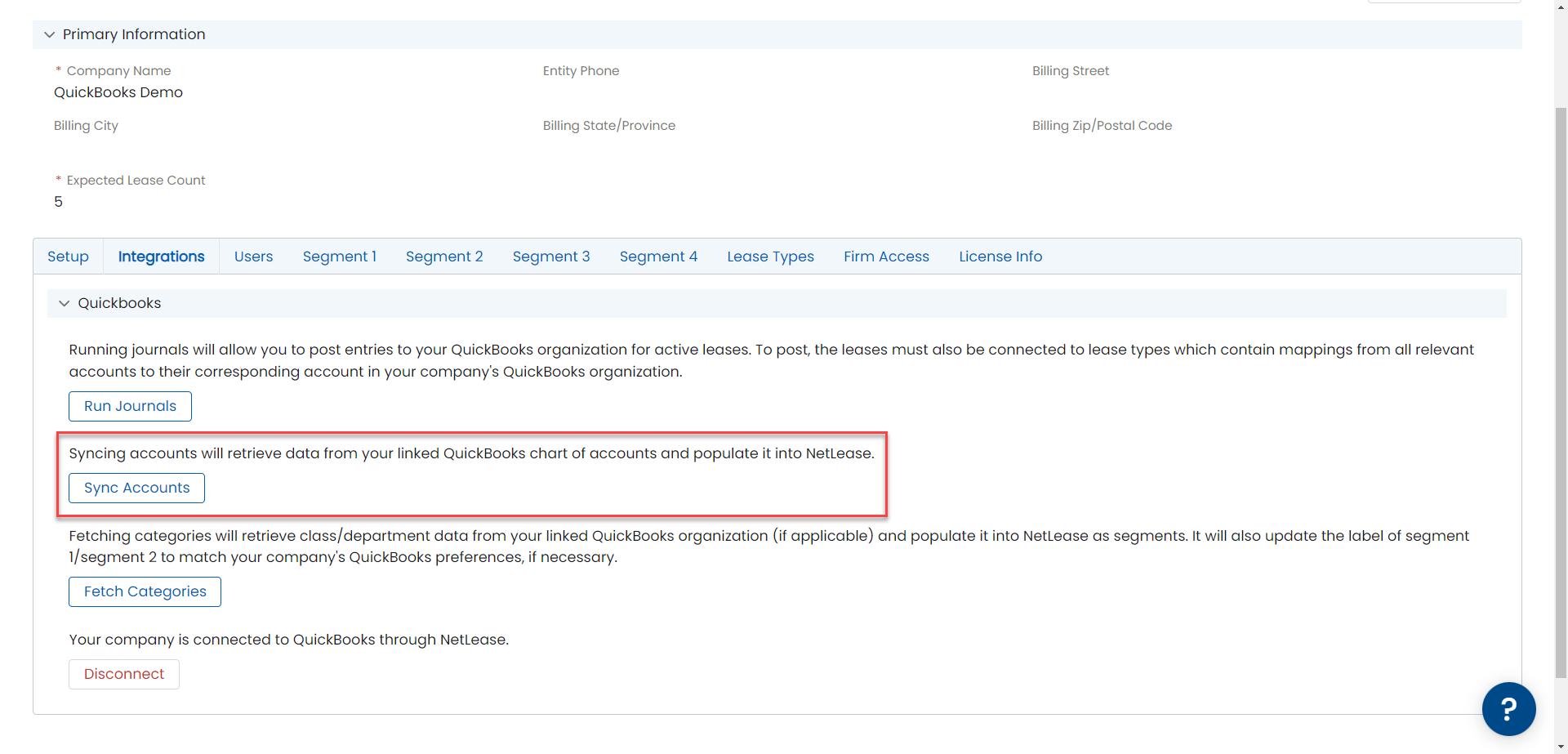 b. Note that the QuickBooks Accounts tab now appears with all of your QuickBooks accounts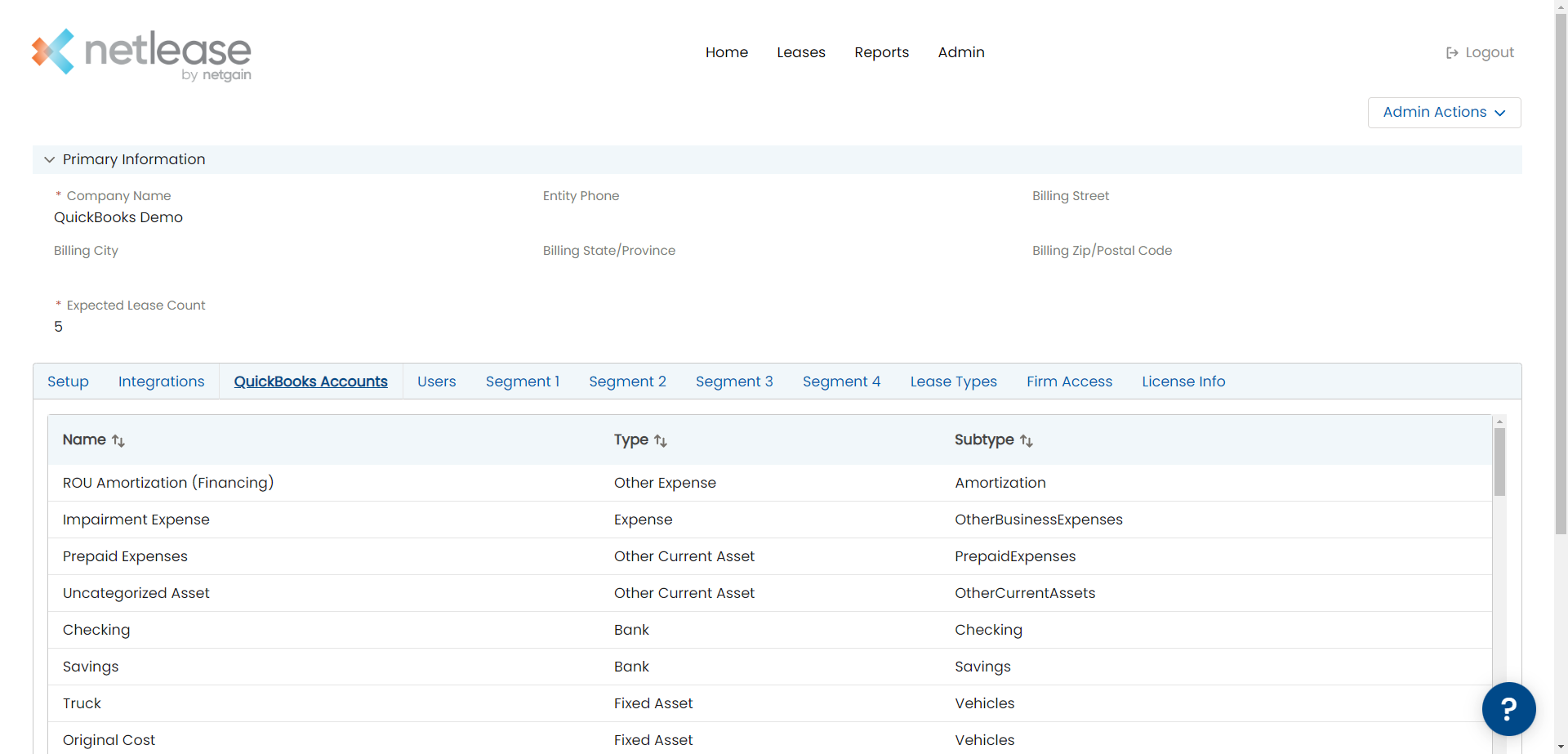 c. Click on the Lease Types tab and select a lease type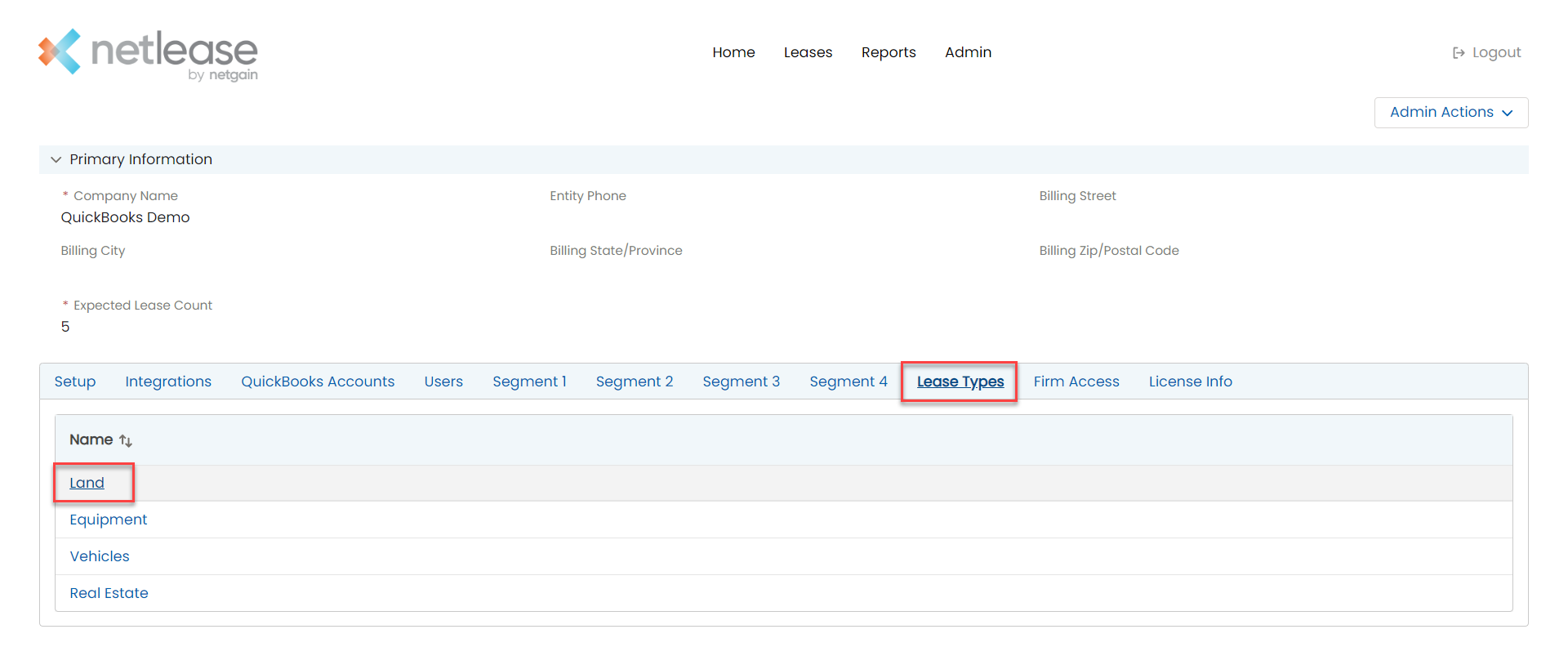 d. Make sure to map all relevant QuickBooks Accounts - Note that journals cannot run unless the corresponding journal is mapped in QuickBooks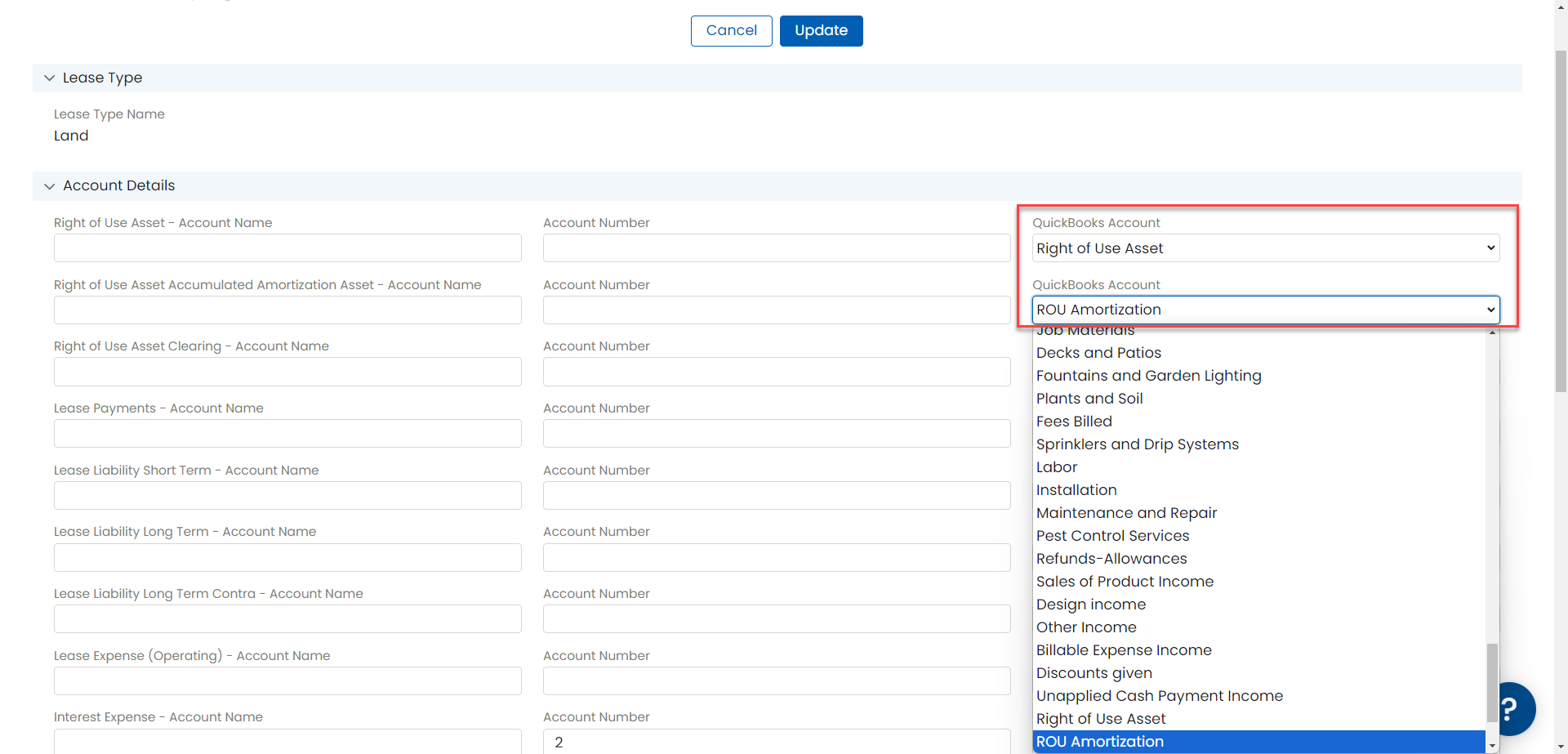 Step 3: Fetch Categories (Optional Step)
a. Click Admin > Integrations > Fetch Categories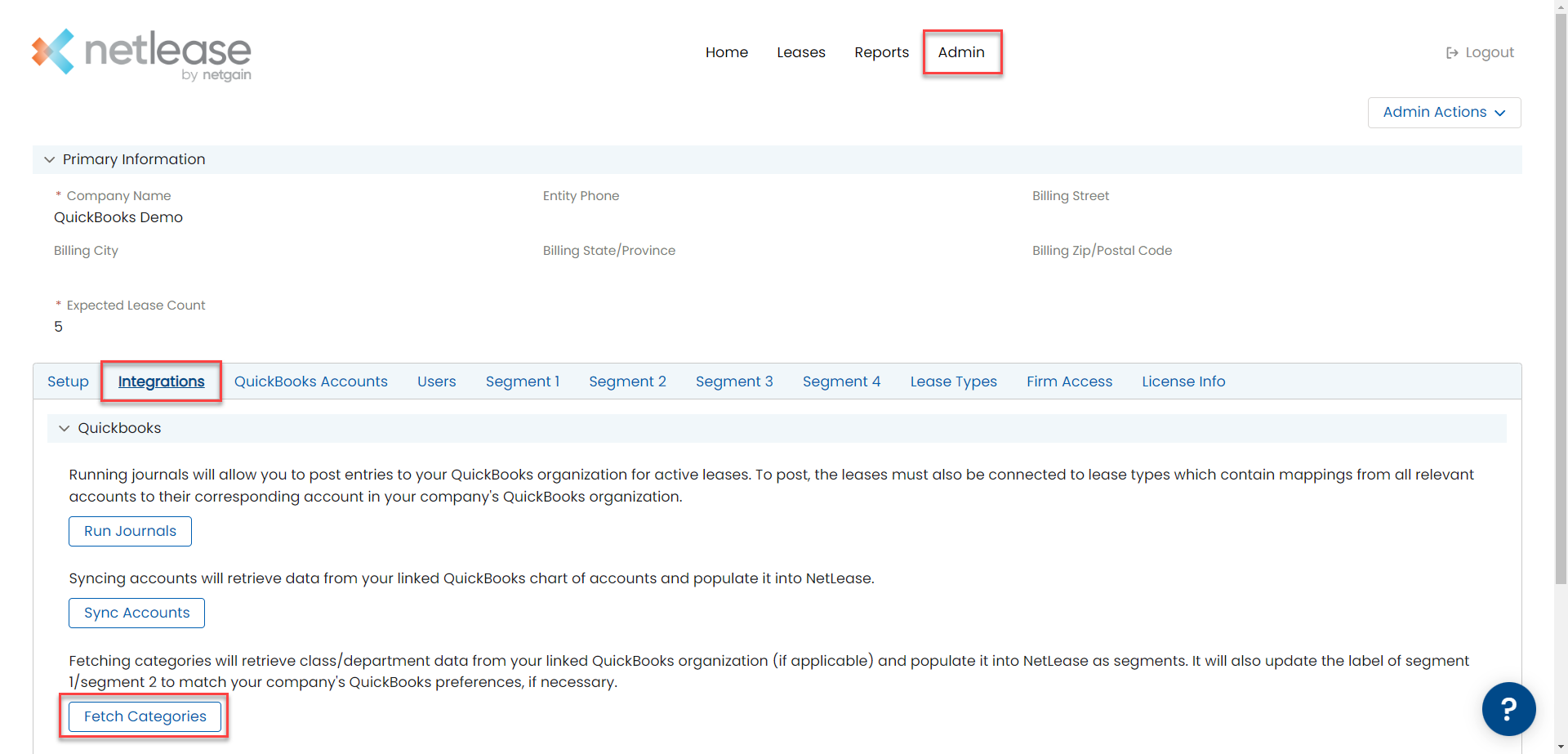 b. Segment 1 and Segment 2 will be populated with Class (QuickBooks) and Location (QuickBooks). All categories under Class and Location in QuickBooks will be imported.
Step 4: Run Journals
*Note that the Sync Accounts step needs to be completed before running journal entries.
a. From the Integrations tab, click on Run Journals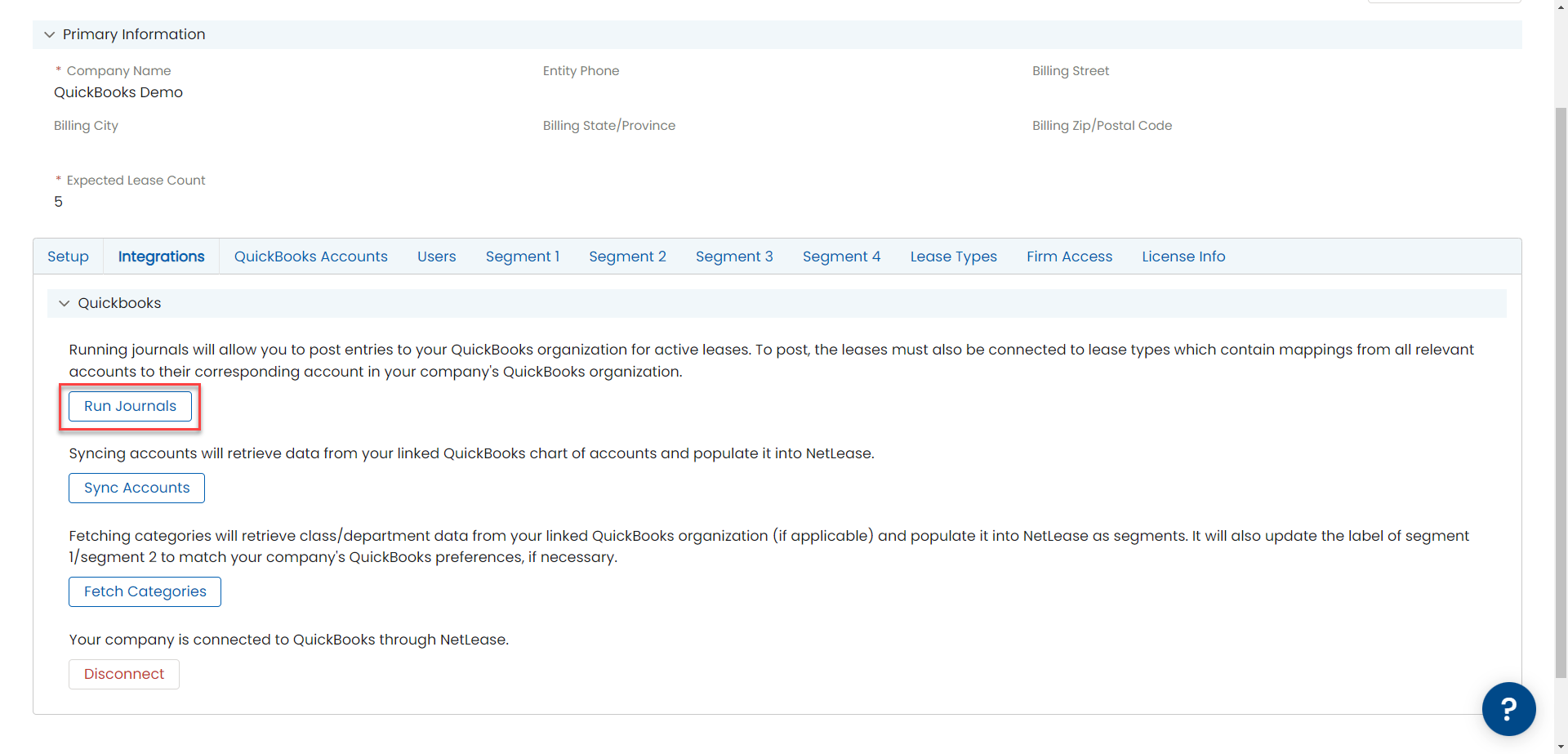 b. Select the Journal Entry reports that you want to book and click Run Journals

c. Select the applicable dates and filters

d. Select which entries to run. Note that the column Previously Posted notifies the user which entries have been posted to QuickBooks. If the user runs these entries again, they will be deleted and re-posted to QuickBooks.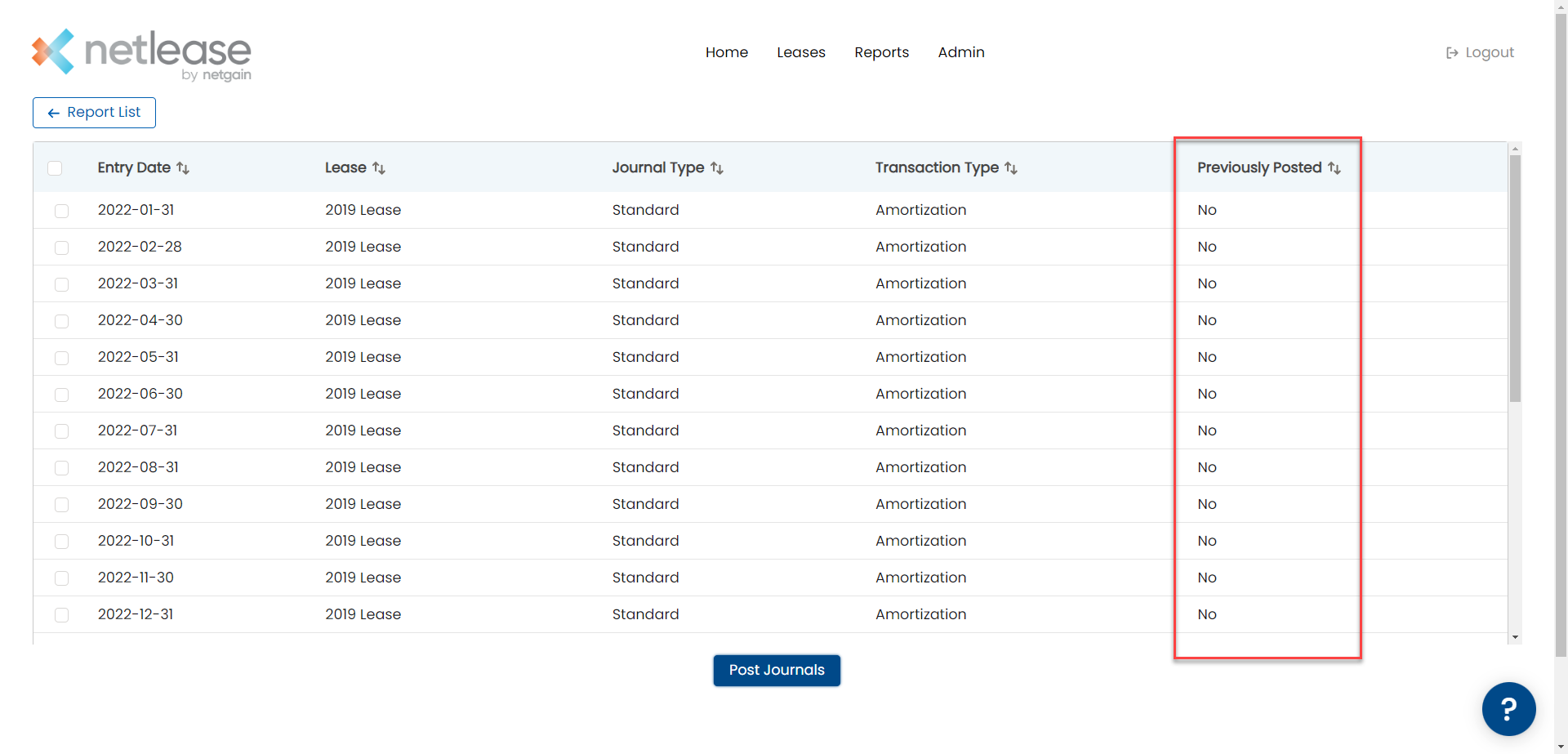 Bottom Line
NetLease is a software designed to improve the work-life balance for accountants. Our mission is to do so by automating as many processes as possible. We are constantly improving NetLease to better serve our customers. This QuickBooks integration comes at no extra cost. We hope that users will utilize this integration to save time and enhance their accounting process by further automating lease accounting.
Please visit our QuickBooks FAQ or email help@netgain.tech if you have any additional questions. Our expert accountants will be happy to assist.
About the Author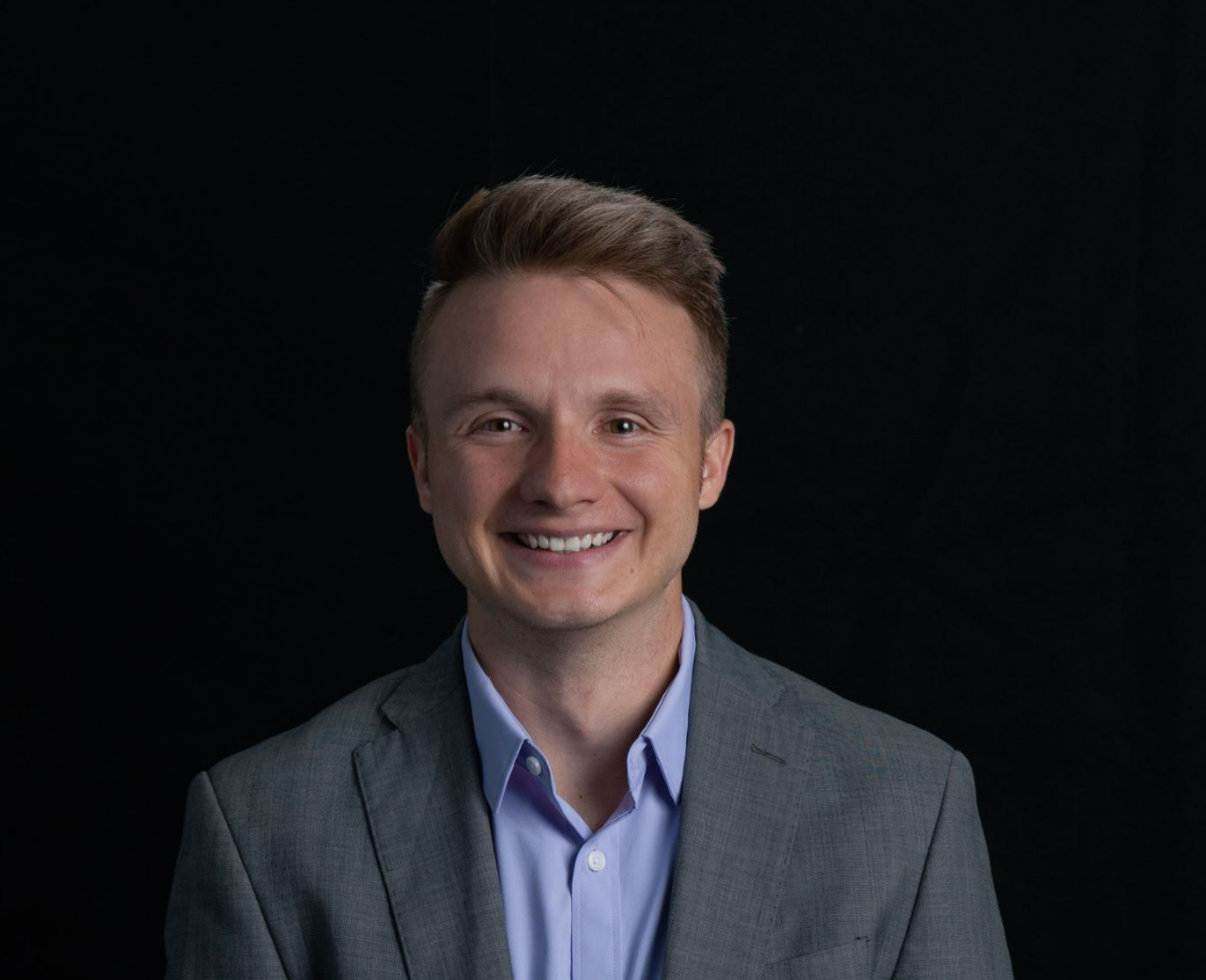 Braden Bronson
Braden Bronson is the product manager for NetLease and NetLease for NetSuite. After receiving a Master of Accountancy, he began his career at PwC on the Risk Assurance team. Durin his time with PwC, Braden was an internal audit lead, testing accounting software for his clients. Braden is passionate about providing accountants with a better work life balance by providing accurate and effective software solutions.