At Netgain, we focus on generating value through the research, design, development, sale, and implementation of software products that simplify, standardize, and automate complex finance and accounting processes and systems. One of our hottest products right now is NetAsset, an advanced fixed asset solution built 100% on the NetSuite platform. If your company is managing their fixed assets in Excel or another software solution, NetAsset will provide you benefits that will reduce risk and save time, at the end of the day increasing your bottom line.
NetAsset has an extensive list of features that create value. I am going to discuss 3 of my favorites: 1) Advanced Reporting, 2) CIP capitalization process, and 3) Intuitive and flexible user experience.
Advanced Reporting
Having been a Big 4 auditor in my previous life (still recovering), I have seen how many iterations it takes to come up with an accurate fixed asset roll forward. I would go back and forth with my clients multiple times until we finally felt comfortable with their report. On the surface, the fixed asset roll forward does not appear difficult. However, there can be thousands or even hundreds of thousands of moving pieces which make the report very time consuming and prone to error. What if you could have your accounting software generate this report for you? Save a lot of time right? NetAsset provides an out of the box fixed asset roll forward that is systematically generated so neither you nor your auditors need worry about the accuracy of the report. You can also filter using native NetSuite segments and the period range you would like to see. The report has full drill down capabilities, data can be summarized by asset class or expanded displaying individual asset detail which can then be exported into excel and sent to the auditors.
NetAsset also provides depreciation waterfall reports to help with forecasting, reconciliation reports to help with month end, and financial/subledger reports to help with internal and external reporting. NetAsset was built by accountants who understand the reports that you need.
Please see related screenshots for 1) full asset roll forward and 2) zoomed in on asset type.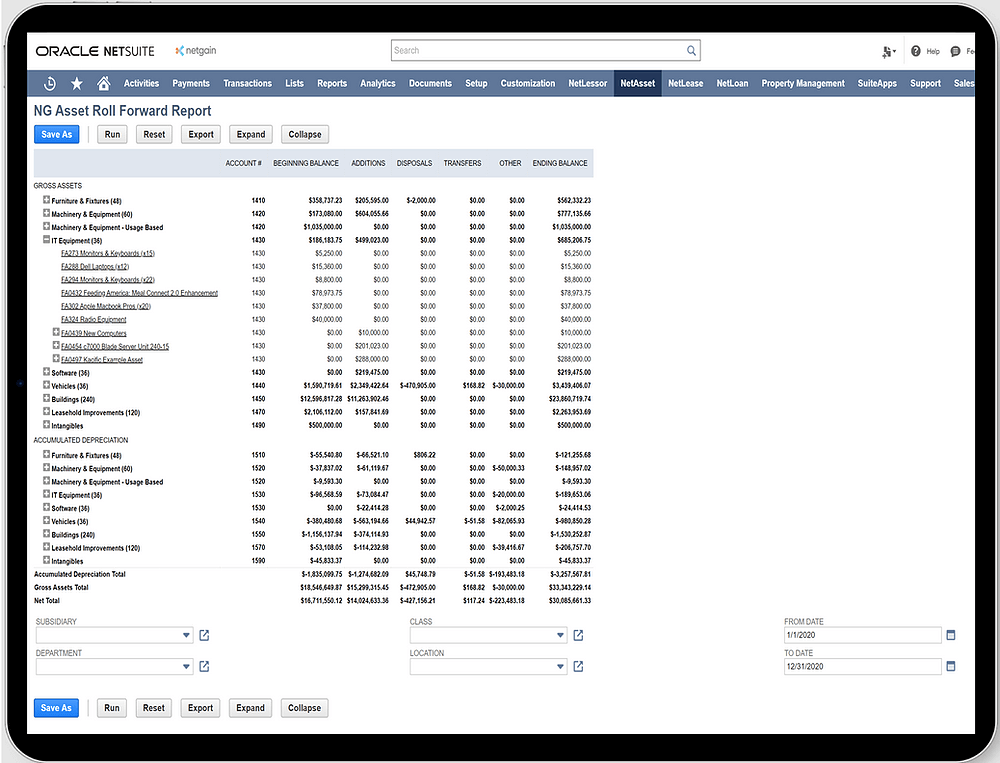 Full Fixed Asset Roll Forward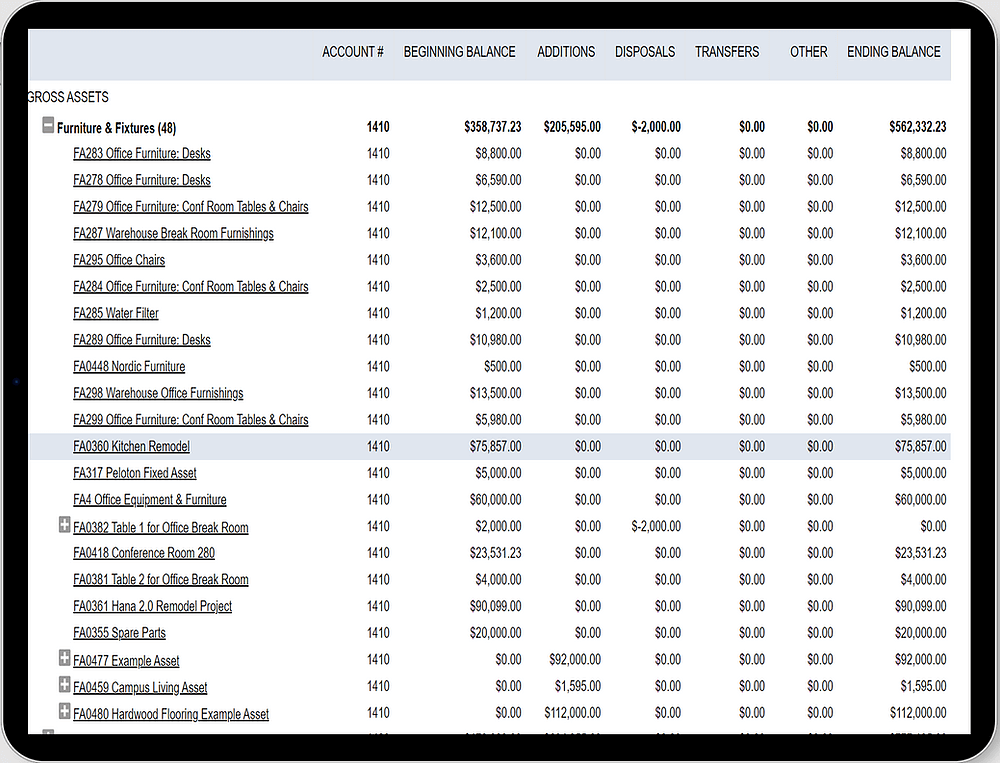 Construction In Progress (CIP) Capitalization Process
If your company has CIP/WIP and you are on NetSuite, my guess is you have run into challenges. NetAsset provides a platform to aggregate and capitalize CIP in one easy step. Let's say your company is building a storage garage. You book 15 invoices for the parts and labor to CIP related to this project. In NetAsset, you can simply filter for this project, select the 15 transactions (vendor bill, journal entries, etc.), then capitalize the asset. The system gives you an option to create 15 separate assets or one single asset. In our example we are building a garage so we would capitalize into one singe asset. Once the asset is capitalized, each of those 15 transactions will be permanently linked to a single asset record. Capitalizing assets from CIP has never been this easy in NetSuite. You are now ready to place the asset in service and start depreciating.
Please see sample screenshots for 1) the NetAsset CIP account interface and 2) related source transaction details on the asset record.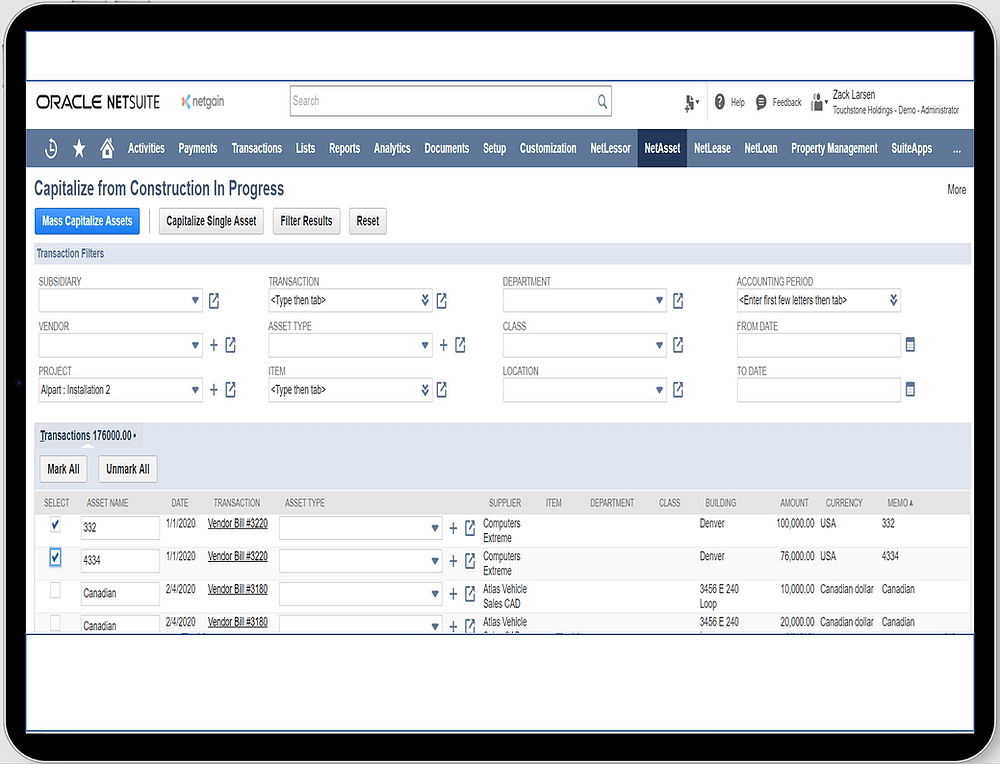 CIP User Interface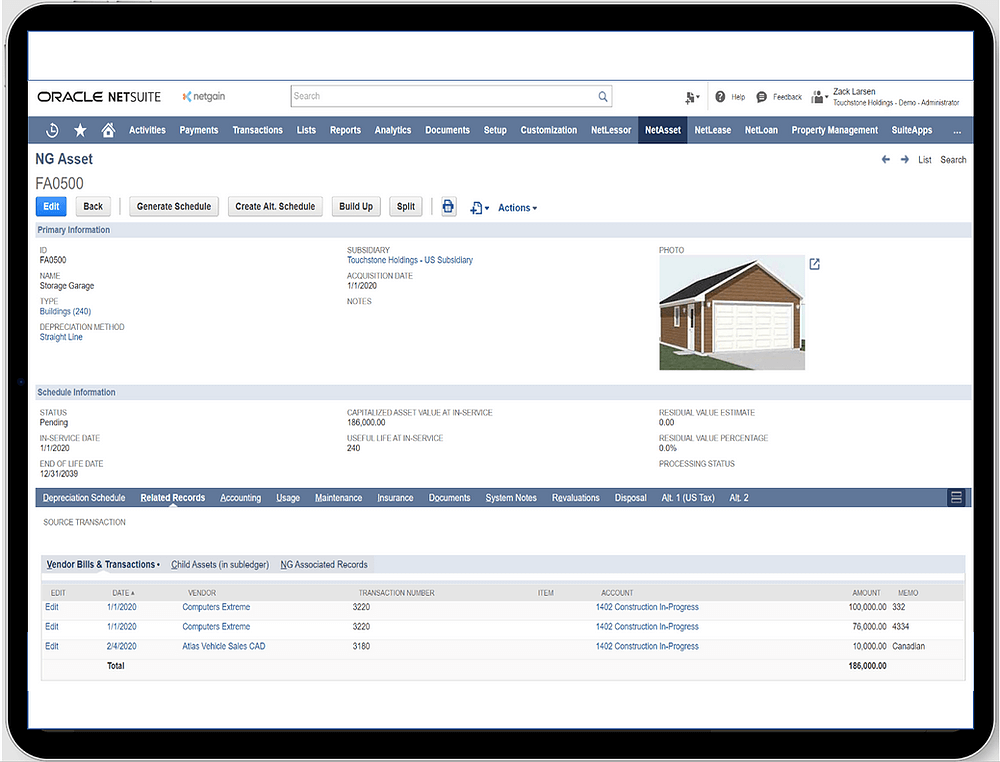 Related transactions on asset record
Intuitive and flexible user experience
NetAsset is built 100% on the NetSuite platform by developers who know NetSuite as well as anyone. This gives the product a completely native feel, and if you know how to use NetSuite, you will have no problem using NetAsset. From a user's perspective, the process is intuitive and simple. From robust dashboards, to straight forward asset capitalization, booking journal entries, and reporting – automation allows you to get the job done efficiently without the headache.
NetAsset takes care of your accounting needs as well as asset management needs. We leverage native records and reports which allow you to customize and configure to your liking. Have specific asset management requirements such as tracking rentable square footage or insurance requirements? No problem, simply add the custom field onto the asset record. You can then add and report on any fields that would help you meet your reporting and asset management needs. This flexibility makes this SuiteApp feel like it is a fixed asset subledger solution designed specifically for you and your business.